Huge response found the call from Juergen Groth from Friedrichsholm for the first Broderius-reunion. 130 family members registered. The report in the local newspaper produced a further dozen. Indeed 136 Broderius-ancestors gathered in Kropp.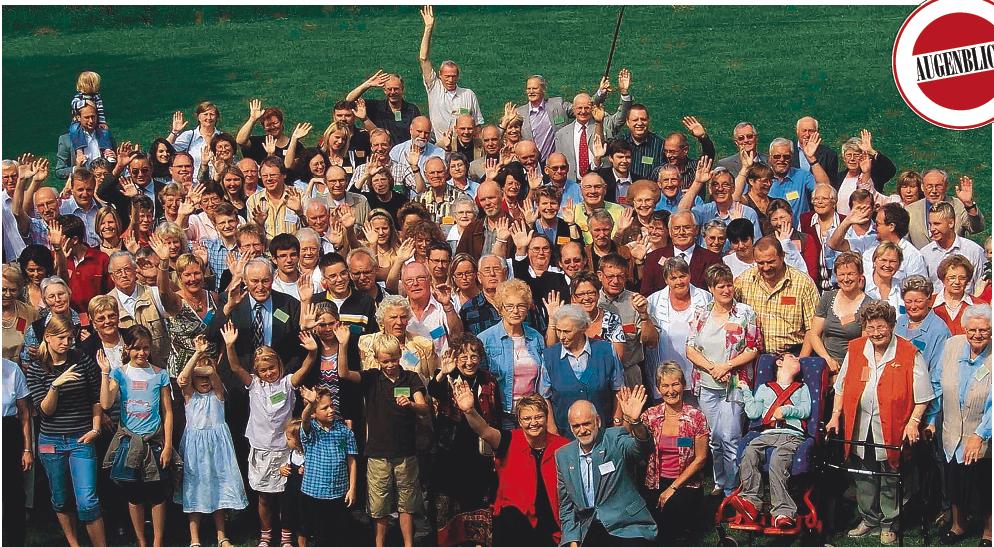 Kropp – 11.45 am: souvenir picture from the first Broderius-reunion, where 136 members of the family-clan arrived from overseas, all parts of Germany and the adjacent european countries. (Photo: Gutsche)
136 Broderius-family members from around the world met on Saturday in the restaurant "Rose Garden" in Kropp. They came from Belgium , Finland , Denmark , the United States , from South German, and especially from Schleswig-Holstein. Even Gerda Brodersen from Kropp was present and accompanied the family choir on the accordion.
The clan was convened by the Friedrichsholmer engineer Juergen Groth. Together with relatives in the United States , the 54-year-old meticulously researched and recorded individual Broderius-lines. In the great hall of the "Rose Garden" 14 family tree branches were presented on movable walls with different color codes. The colors referred to the name plates, which each member has received at the entrance. So every Broderius-ancestor could find on that basis all the ancestors of his line.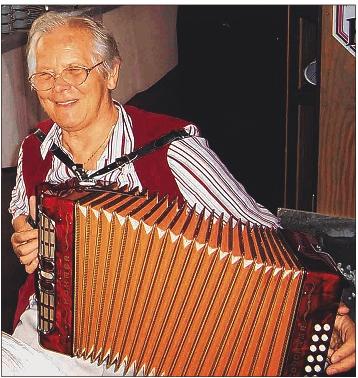 home match: Gerda Brodersen from Kropp makes music. (Photo: Gutsche)
Kropps mayor Reinhard Mueller was surprised by the large number of participants, especially that many younger found the way to Kropp. "That preserves the Broderius-family research," he said in his greeting word.
Juergen Groth, whose grandmother Magdalena (born 1898 in Erfde) was a Broderius, presented his report under the title "How we are all related!" And Claus Broderius from Linden , New Jersey ( USA ), who emigrated 1952 from Hohn to America , translated for his 14 compatriots.
Father of the clan is Claus Broder(i)us, from 1569 until 1612 Pastor in Klixbuell. Except the emigrants the clan was very down-to-earth. Broderius-ancestors are found especially in Owschlag, Erfde, Lohe-Foehrden, Tetenhusen, Doerpstedt-Buenge, Schwabstedt, Poppenbuell, Garding and Alt Bennebek. From Alt Bennebek a Johann Heinrich Broderius emigrated 1857 to America and started the Broderius-Iowa-line.
"I was infected by the 'researcher bacillus'," said Juergen Groth. Meanwhile 2800 family members were found. According to the report in the local newspaper about the upcoming reunion, two other families from Schleswig-Holstein reported and confirmed their participation. As Groth announced the publishing of a family chronicle with documents, photographs, names and other data, he received great applause.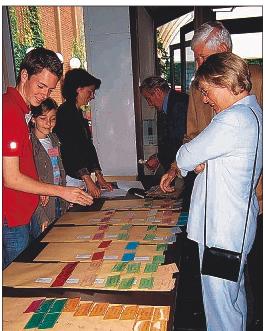 Variegated family: The name tags show by color, to which family branch the bearer belongs. (Photo: Gutsche)
Texts and images are protected by copyright and must not be reproduced or reused or used commercially.