"Clan Broderius" meet in Kropp / New ideas for the Chronicle gathered.
"It is a highlight in my life, this could not be overbid." Claus Broderius (73) is still quite overwhelmed by the days in which he and the tour group of 15 people from the United States visited places of his ancestors, established ties in a reunion with around 140 family members in Kropp and received many additional tips for the family chronicle.
Bruce Broderius agreed enthusiastic. Bruce was the initial impetus for the family-researcher-bacillus of the "clan Broderius": As a boy of eight from Minnesota / USA , he began with the family research in 1943. Juergen Groth, who arranged together with his wife Angelika a mammoth-program with many individual choices, stated: "Everything's gone fine so far, and the rest will also work out."
"The rest," this means a visit on Monday to the family Junge in Breiholz-Claustal and a home-like sit-in together in the garden of Henry Broderius in Lohe-Foehrden. Further destinations are the German capital Berlin and the city Schievelbein in Poland (near Stettin ). There Bruce Broderius has kinsmanlike roots.
The aim of the intensive family research is the publication of a book with facts and photos: "It is ought to be self-published in German and English language," plan Juergen Groth, Claus and Bruce Broderius.
Fraught with the beautiful days in Germany Groth already gushes for the next reunion, which will take place in three years. But: "Just like now at the first reunion can not be again, it is simply inimitable", stated Claus Broderius.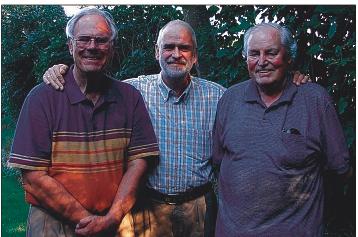 Publishers of the family chronicle: Bruce Broderius, Juergen Groth and Claus Broderius (from left). (Photo: Timmermann)
Texts and images are protected by copyright and must not be reproduced or reused or used commercially.